CNC Router machine

WATTSAN M5S 1325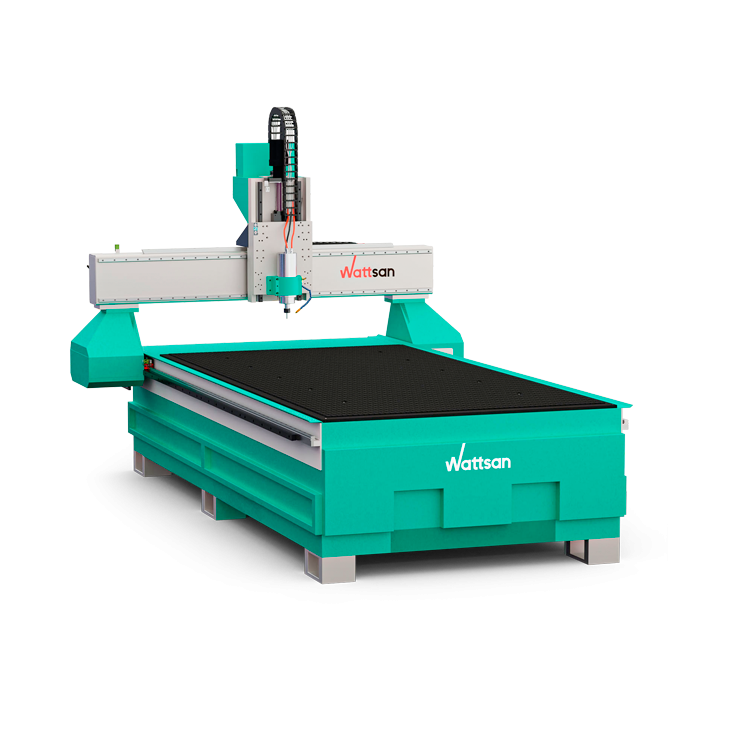 Unique selling proposition
2 years warranty

Training

Lifelong support

High precision and speed
Brief of CNC Router Machine WATTSAN M5S 1325
CNC milling and engraving machine WATTSAN M5S 1325 is a highly accurate top-of-the-line model of the M5S series. This machine is in some respects superior to its predecessor in the M2S series. It is intended for cutting and engraving of wood, MDF, chipboard, acryl, Plexiglas, PVC, composite, aluminum. Also, you can perform 3D milling cutting with WATTSAN M5S 1325.
With this machine, you can make doors, cabinets, tables, chairs, machine parts and paronite gasket materials, stand bases, LED and lightboxes, souvenir products and 3D relief on wood.
WATTSAN M5S 1325 has a working area of 2500х1300х300 mm and a T-slot slatted table. It is possible to install a vacuum table that immobilizes the workpiece and facilitates operation – no other devices and clamps are needed to fasten the material. The complete set of the machine includes a water-cooled spindle with the power of 7.5 kW and ER-32 collet chuck.
Technical characteristics
Purchase procedure
Equipment selection

We assist you in making your choice of a machine matching your needs

Sending invoice

We agree on the complete set of the machine and sending the invoice with the final cost of the equipment.

Payment

In full if the machine is in stock. 50% in advance 50% at the delivery if the machine is not in stock.

We check the machine

The 3 step quality control: at the Wattsan factory, at our warehouse in the Netherlands, before the delivery.

Delivery or pick-up

Either a transport company or you pick up the machine from our warehouse.

Launching equipment

We are here to assist you whenever you need support.