Laser marker

Laser marker Wattsan FL HT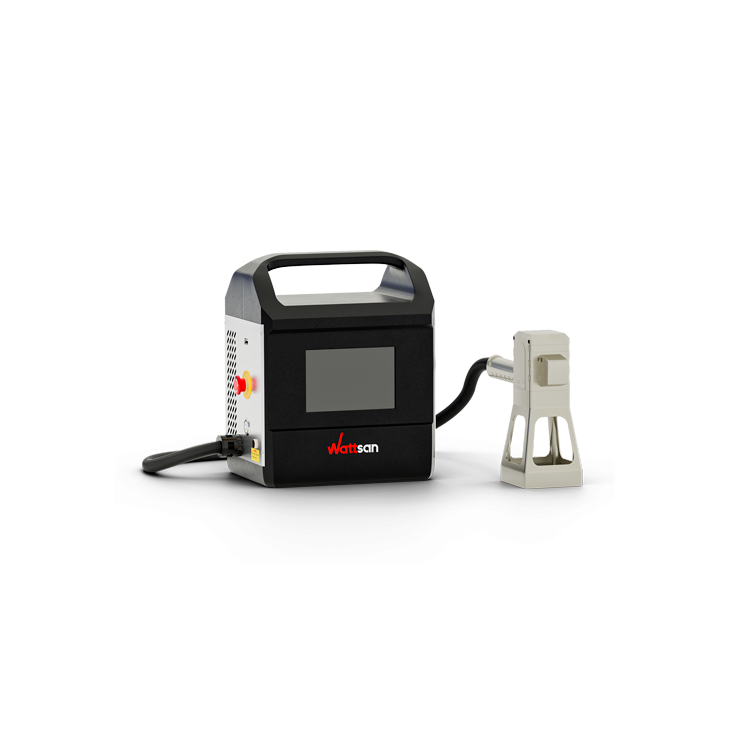 Unique selling proposition
2 years warranty

Easy service

Training

Lifelong support

Portable and mobile
Brief of Laser marker WATTSAN FL HT
The WATTSAN FL HT laser marker is a handy and portable marker for your production facility
The WATTSAN FL HT is a fiber laser marker with a solid state emitter, a lightweight portable unit and a comfortable handheld arm. This solution provides maximum comfort when working both horizontally and vertically. It is ideal for marking and engraving large products that are difficult to move. The FL HT laser marker can mark plastics, nameplates, electronic boards and much more in assembly line production. The desktop laser is designed for marking metals, plastics, rubber, PVC, epoxy, ceramics, etc.
A monitor is located on the right-hand side of the unit for easy operation both in the workshop and away from the production area. The built-in USB port allows layouts to be loaded directly into the marking unit quickly and easily. The system can store up to 8 groups of different marking parameters and each group of parameters can be set individually. The software supports vector and raster image formats such as BMP, PLT, CDR, DXF, AI, SVG etc. and has a built-in generator for labelling and barcoding. It also works with simple file types such as TxT and xlsx, allowing you to create layouts in Notepad and Excel programs.
Materials
Carbon steel

Aluminium

Copper

Brass

Titanium

Glass

Stone

Leather

Plastic

Plexiglas (Acrylic)

Cardboard
Wattsan laser markers

are easy and convenient to use
User-friendly control system

The marker is controlled by built-in software with an intuitive interface that allows you to master your new equipment in a matter of hours.

F-Theta lenses

The size of the work area changes depending on the size of the installed lens. WATTSAN laser markers are equipped with lenses of two sizes – 85 and 79 mm. If you work in depth on small layouts, it is better to install a lens field diameter, the beam will be thinner and the result will be of higher quality.

Mobility in use

Lightweight (only 7.8kg), compact in size and with a handy handle on the block, the marker provides mobility and convenience in busy workshop environments and allows you to take it with you when working away from the production site.

Light gun

The weight of the marking gun is less than 0.9 kg. The light weight is advantageous for long periods of work, even in awkward positions. When marking vertical products or working at height for long periods, the weight of the gun is critical for the operator.
Purchase procedure
Equipment selection

We assist you in making your choice of a machine matching your needs

Sending invoice

We agree on the complete set of the machine and sending the invoice with the final cost of the equipment.

Payment

In full if the machine is in stock. 50% in advance 50% at the delivery if the machine is not in stock.

We check the machine

The 3 step quality control: at the Wattsan factory, at our warehouse in the Netherlands, before the delivery.

Delivery or pick-up

Either a transport company or you pick up the machine from our warehouse.

Launching equipment

We are here to assist you whenever you need support.
Technical characteristics
Ask questions
Laser markers usually have small working area: from 100*100 to 300*300. You should keep it in mind while choosing the machine.Then you should decide what type of material are you going to work with. For exaple Co2 marker is good for wood, plastic and plexiglass. If you want to mark metal then you should pick fiber laser marker. The choice of emitter depends on the desired result. For example, if you want to do color marking on metal, then IPG or JPT are an excellent choice.

It is a permanent image resistant to mechanical damage, acidic and alkaline media, high and low temperatures.

It depends on your application. The main selection criterion is the emitter power and the lens. For quick deep engraving or working on highly reflective metals, it is better to use emitters with a power of 50W and a lens with a working area of 110x100mm. For high quality marking a 20-30W emitter and a 200x200 or 300x300 mm lens will do the trick. For more details, please contact Virmer managers: +31852731786, е-mail: info@virmer.com

For the hobby, budget markers with MaxPhotonics or Raycus emitters are suitable. However, if your hobby is jewellery making, you should consider machines with IPG emitters from 50W. For more details, please contact Virmer managers: +31852731786,
е-mail: info@virmer.com

CO2 laser sources mark and engrave organic materials: plywood and all types of wood-based materials, paper and cardboard, leather and faux leather, fabric, glass and mirror, plastics and rubber, stone and ceramics. Fiber emitters mark and engrave metals (ferrous metals, stainless steel, aluminium, titanium, etc), plastics and rubber, leather and faux leather.