CNC Router machine

WATTSAN A1 6090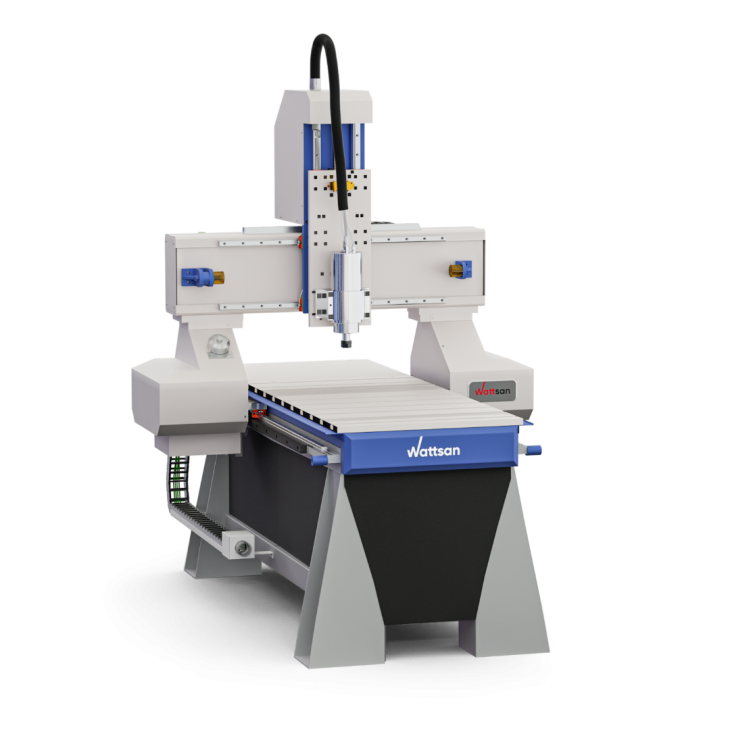 Unique selling proposition
2 years warranty

Easy service

Training

Lifelong support

Showroom and Demo
Brief of CNC Router Machine WATTSAN A1 6090
WATTSAN A1 6090 CNC milling and engraving machine is one of the most economical and practical machines. The machine performs cutting and engraving of wood, MDF, chipboard, acrylic, plexiglass, PVC, composite, aluminum. WATTSAN A1 6090 also performs 3D milling.
This machine can be used to produce doors, cabinets, tables, chairs, machine parts and gasket materials from paronite, stand bases, LED and light boxes, souvenirs and decor items. WATTSAN A1 6090 has a working field of 600×900×200 mm with a slatted table.
A spindle with an ER-11 collet chuck and a power of 1.5 kW is included in the basic package. Water cooling system. A stepper motor controlled by the Yako 2405 driver is responsible for moving the portal. The body is a welded structure made of steel profile. The machine weighs 400 kg. The maximum axis travel speed is 25,000 mm/min, and the maximum working speed is 15,000 mm/min. Spindle speed can reach 24000 rpm. The table has a slatted T-slot cover. The NcStudio software is responsible for the machine control. The model can be upgraded: DSP controller, chip removal system, manual auto-lubrication.
Purchase procedure
Equipment selection

We assist you in making your choice of a machine matching your needs

Sending invoice

We agree on the complete set of the machine and sending the invoice with the final cost of the equipment.

Payment

In full if the machine is in stock. 50% in advance 50% at the delivery if the machine is not in stock.

We check the machine

The 3 step quality control: at the Wattsan factory, at our warehouse in the Netherlands, before the delivery.

Delivery or pick-up

Either a transport company or you pick up the machine from our warehouse.

Launching equipment

We are here to assist you whenever you need support.
Technical characteristics