CNC Router machine

WATTSAN A1 6090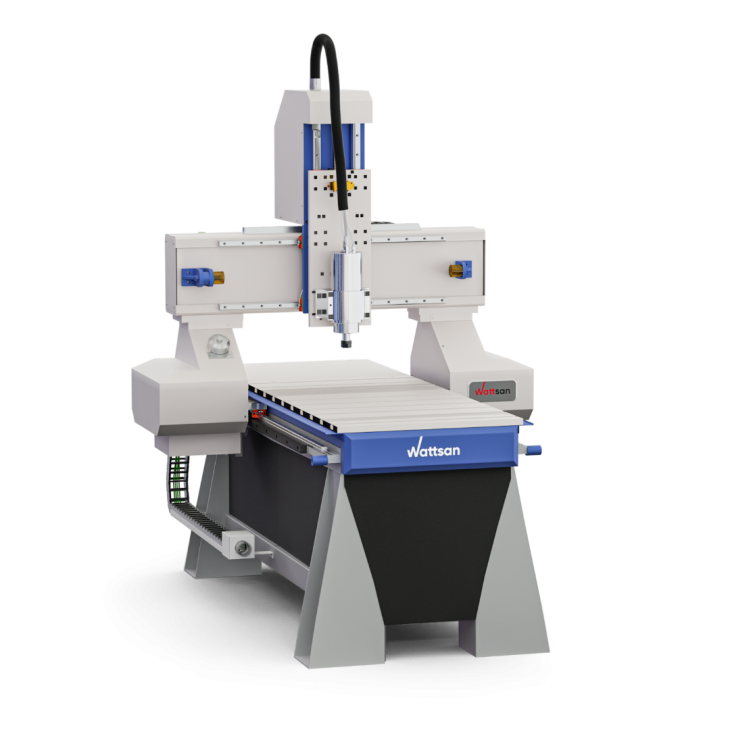 Unique selling proposition
Extensive upgrade options

Showroom and Demo

T-slot rack coating

Belt gear

Framed structure
Brief of CNC Router Machine WATTSAN A1 6090
Milling machine Wattsan A1 6090 - medium-format cnc router machine
The CNC router machine WATTSAN A1 6090 performs cutting and engraving of wood, MDF, chipboard, acrylic, plexiglass, PVC, composite, aluminum, etc. WATTSAN A1 6090 also performs 3D milling.
This machine can produce doors, cabinets, tables, chairs, machine parts and gaskets made of paronite, stand bases, LED and light boxes, souvenirs and decorative items.
The WATTSAN A1 6090 machine has a working field of 600×900x200 mm with a lattice table. But if you want to process deeper products, we advise you to consider the WATTSAN M1 6090 model. The standard equipment of the Wattsan A1 6090 machine includes a spindle with an ER-20 collet chuck and a power of 2.2 kW. And two-phase stepper motors are responsible for precise movements.
Multi-stage heat treatment and annealing of the bed in a furnace make it possible to equip Wattsan machines with a 4.5 kW spindle and thus increase production by 40%.
Materials
Brass

Paronite

Copper

Aluminium

MDF

Plexiglas (Acrylic)

Foam rubber

Plastic

Chipboard

Plywood

Wood
Wattsan machine beds

will provide for 7 years of machine continuous operation
Annealing of the bed

The solid-cast machine bed provides the required level of rigidity and vibration resistance. For the durability of the machine frame structure we anneal it in a special furnace for stress relief. Furnace tempering guarantees the service life of the frame for more than 10 years.

HIWIN guides

Wattsan machines are equipped with HIWIN guides. They are distinguished by their quality and reliability, unlike analogues. Four closed rows of bearings are 30% superior to similar designs in terms of load capacity and rigidity.

Rack table

The working field of the machine has a special T-slot rack coating. The standard shaped longitudinal grooves of this coating make it possible to fix the material with a mechanical holdback, bolts or clamps.

Two-phase stepper motor

These motors are responsible for the machine movement along the Y, X and Z axes. Such motors usually do not break down and are easily replaced. At the request of the customer, the machine is equipped with a stepper motor, a hybrid stepper motor or a servo motor.

Belt gear

The A-series models are equipped with belt gears, which increases the service life of the engine and compensates for inaccuracies. These gears are very easy to replace and maintain and work silently. The optimal solution for processing soft wood and plastic.
Firm frame structure

of Wattsan machines

During the machine operation inertia of gentry motion is transferred to the frame which is subjected to significant loads. Therefore material and structure of the machine play a significant role in securing the machine against deformation and breakage.
All frames undergo multi-stage heat treatment within a day followed by milling. Furnace annealing guarantees a frame service life of more than 7 years.

All-welded frame of steel profile provides the right level of rigidity and vibration resistance. High strength and resistance of the frame ensure 10 years of operation without distortion and deformation.
Purchase procedure
Equipment selection

We assist you in making your choice of a machine matching your needs

Sending invoice

We agree on the complete set of the machine and sending the invoice with the final cost of the equipment.

Payment

In full if the machine is in stock. 50% in advance 50% at the delivery if the machine is not in stock.

We check the machine

The 3 step quality control: at the Wattsan factory, at our warehouse in the Netherlands, before the delivery.

Delivery or pick-up

Either a transport company or you pick up the machine from our warehouse.

Launching equipment

We are here to assist you whenever you need support.
Experiences

from enthusiastic blogers
This laser engraver can engrave without any problem. How fast and easy it is able to customize products!

Machine has a perfectly flat surface. It makes repetitive work easier for me!

Great job done within an hour. Thanks to the speed of the laser CO2 machine.

This model is great, and laser precision is crazy, it's sharp as a razor!
Technical characteristics