CNC Router machine

WATTSAN M1 1325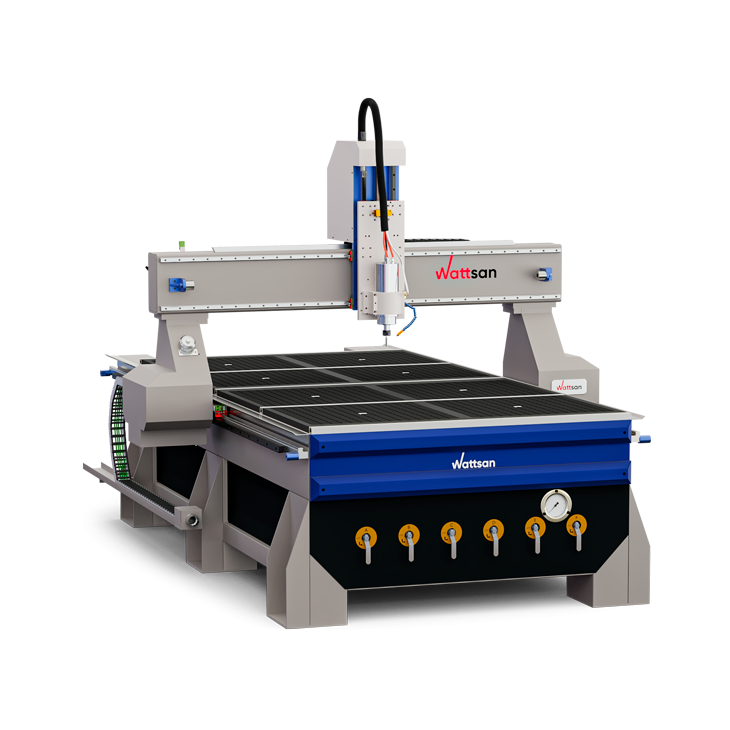 Unique selling proposition
2 years warranty

Training

Lifelong support

Showroom and Demo
Brief of CNC Router Machine WATTSAN M1 1325
CNC milling and engraving machine WATTSAN M1 1325 is a practical machine from the M1 series. It has more potential than analog A1 series machine. It is designed for cutting and engraving wood, MDF, chipboard, acrylic, plexiglass, PVC, composite, aluminum. Also WATTSAN M1 1325 can perform milling 3D cutting.
WATTSAN M1 1325 machine has a required field of 1300×2500×200 mm with a slatted floor table. The body of the machine is a welded structure made of steel profile. But we can install a vacuum table that immobilizes the material during work and facilitates cutting, it does not require additional fixtures and clamps for fastening.

The package includes a spindle with an ER-25 collet chuck and a power of 3 kW, as well as a water cooling system. The machine is controlled by the operator through the standard NcStudio control system, for which we offer alternative options: a DSP controller and the Syntec system.
Purchase procedure
Equipment selection

We assist you in making your choice of a machine matching your needs

Sending invoice

We agree on the complete set of the machine and sending the invoice with the final cost of the equipment.

Payment

In full if the machine is in stock. 50% in advance 50% at the delivery if the machine is not in stock.

We check the machine

The 3 step quality control: at the Wattsan factory, at our warehouse in the Netherlands, before the delivery.

Delivery or pick-up

Either a transport company or you pick up the machine from our warehouse.

Launching equipment

We are here to assist you whenever you need support.
Technical characteristics