CNC Router machine

WATTSAN M1 1616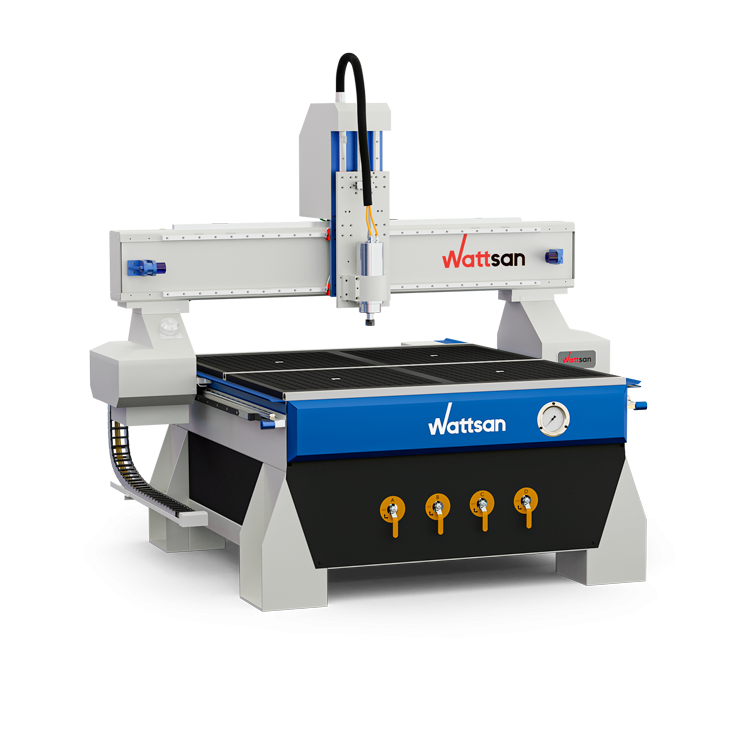 Unique selling proposition
2 years warranty

Training

Lifelong support

Extensive upgrade options
Brief of CNC Router Machine WATTSAN M1 1616
CNC milling and engraving machine WATTSAN М1 1616 belongs to М1 series, that is considered more technically sophisticated than A1 series and has a massive frame. The frame is more stable and allows process more complex parts. The machine is applicable for cutting of wood, MDF, chipboard, acryl, plexiglas, PVC, aluminum, composite. Using WATTSAN М1 1616 you can also perform a 3D milling.
Using this machine you can produce doors, furniture, equipment parts and paronite gaskets, base of exhibition booths, LED signs and light boxes, souvenirs and 3D-rilievo on wood.
WATTSAN М1 1616 has a grid type working table of 1600×1600×300 mm, but additionally we can install a vacuum table, that holds the sheet material in place and significantly ease the process.
We can modernize the machine with the following: vacuum table, DSP controller, chip removal system, automatic lubrication, more powerful spindle or additional cutting heads, rotator for cylinder shaped parts, tool sensor.
Purchase procedure
Equipment selection

We assist you in making your choice of a machine matching your needs

Sending invoice

We agree on the complete set of the machine and sending the invoice with the final cost of the equipment.

Payment

In full if the machine is in stock. 50% in advance 50% at the delivery if the machine is not in stock.

We check the machine

The 3 step quality control: at the Wattsan factory, at our warehouse in the Netherlands, before the delivery.

Delivery or pick-up

Either a transport company or you pick up the machine from our warehouse.

Launching equipment

We are here to assist you whenever you need support.
Technical characteristics