Laser machine

WATTSAN 0203 micro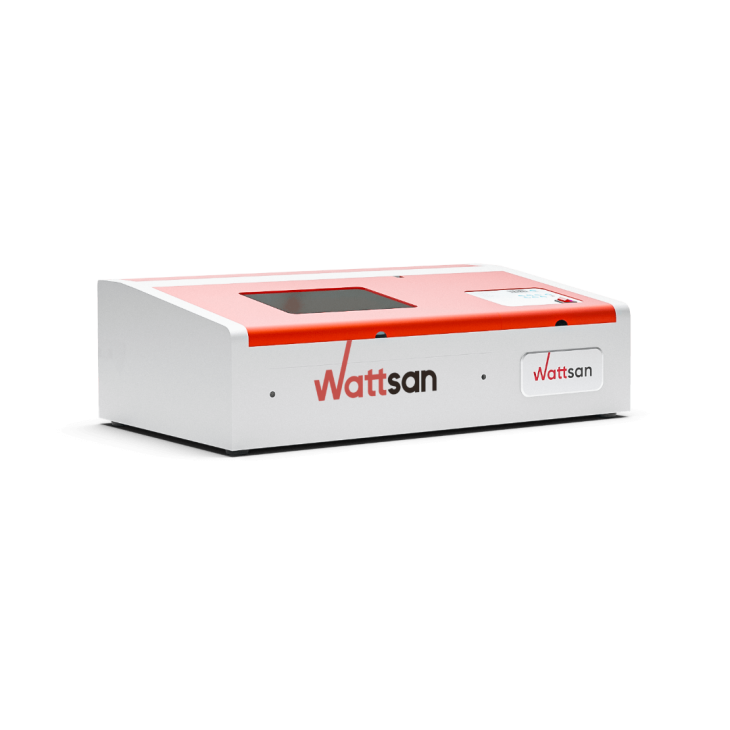 Unique selling proposition
Desktop (compact)

Designed for 24/7 operation

Easy service

M2 control system

Powerful laser tube
Brief of Laser Engraving Machine 40W co2 WATTSAN 0203 micro
Wattsan 0203 micro — desktop laser engraving machine
A compact desktop co2 laser engraving machine Wattsan 0203 micro is designed for long works and continuous operations. The Wattsan 0203 micro is good not only with high engraving quality, but also with cutting thickness up to 5 mm. The working area is limited to 200×300 mm.
The machine has a wide range of materials for cutting and engraving such as plywood, wood, plastics, leather, fabric and much more.
And the compact dimensions allow you to install the machine on a desk.
Materials
Wool

Resin

Marble

Granite

Bamboo products

Crystale jade

Ceramic tie

Paronite

Stone

Glass

MDF

Foam rubber

PET

Plexiglas (Acrylic)

Fabric

Leather

Rubber

Plastic

Cardboard

Plywood

Wood
Wattsan

laser machines are thoughtfully designed
Efficient smoke extraction

The well-arranged smoke extraction system allows you to work in small workshops and minimizes smells caused by cutting or engraving.

Reinforced structural elements

Engrave at high speed without compromising on quality. Professional components eliminate the occurrence and accumulation of errors caused by vibrations.

High quality laser tube

The 40 W laser tube has a very small spot and, as a result, a very high engraving quality. In addition, it can cut wood up to 4 mm.
Wattsan

- designed and engineered for business owners
Gantry

The gantry is a metal profile with horizontal press rollers, which adds durability and makes it easier to maintain the gantry.

Mechanical end sensors

Used on machines with a smaller working area size as they are highly accurate.

Easy mirror adjustment

The mirrors are adjustable in all planes, making it much easier to set up or align the machine even if you use a non-standard laser tube.
Purchase procedure
Equipment selection

We assist you in making your choice of a machine matching your needs

Sending invoice

We agree on the complete set of the machine and sending the invoice with the final cost of the equipment.

Payment

In full if the machine is in stock. 50% in advance 50% at the delivery if the machine is not in stock.

We check the machine

The 3 step quality control: at the Wattsan factory, at our warehouse in the Netherlands, before the delivery.

Delivery or pick-up

Either a transport company or you pick up the machine from our warehouse.

Launching equipment

We are here to assist you whenever you need support.
Experiences

from enthusiastic blogers
This laser engraver can engrave without any problem. How fast and easy it is able to customize products!

Machine has a perfectly flat surface. It makes repetitive work easier for me!

Great job done within an hour. Thanks to the speed of the laser CO2 machine.

This model is great, and laser precision is crazy, it's sharp as a razor!
Technical characteristics
Ask questions
First of all you should decide what are you going to use the machine for, what kind of material would it be and it's size (length and thickness). This will help determine the required power of the laser tube as well as the size of the working area. You can also write or call us, we will be happy to help you choose the right machine for your tasks and budget

Laser engraving machine is a piece of computer numerical control (CNC) equipment that uses a laser beam to engrave necessary graphic information (image or inscriptions) on various surfaces.

Engraving is the effect on the material in depth. Marking on the other hand only changes the color of the material.

Using CO2 laser machine you can engrave any type of wood materials: solid wood, plywood, MDF and others.