Laser machine

WATTSAN 0503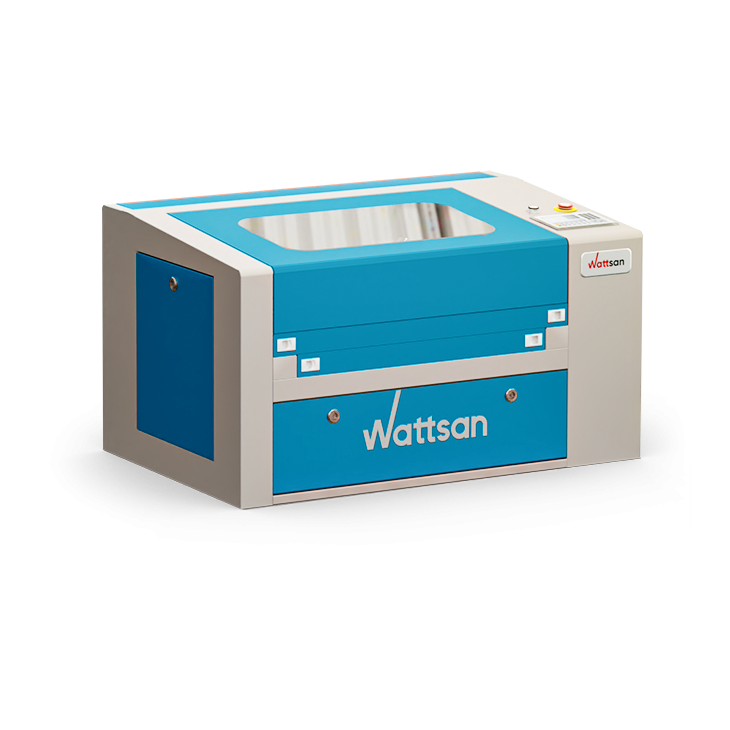 Unique selling proposition
Ruida 6445G control system

Desktop (compact)

Through table

Anodized blades

Lifelong support
Brief of Laser Engraving Machine 60W co2 WATTSAN 0503
Wattsan 0503 — desktop laser cutting & engraving machine
Wattsan 0503 is a co2 laser cutting and engraving machine for serial operation. Unlike peers with a working field size of 500х300 mm, the laser machine is made of metal of the same thickness like 6040 ST. The machine has the same structural elements and despite its compact dimensions, and it's possible to cut and engrave plywood up to 4mm without any difficulties.
The machine can handle with wood, cardboard, paper, plexiglass, acrylic, plastics, rubber, leather, fabrics and fur.
Among the distinctive features, one can single out a manual lifting table, which is necessary for processing bulk products up to 20 cm thick. What is an important function and allows you to install a rotary device, which is used for engraving on cylindrical surfaces. It is possible to engrave on glass, ceramics, and some stones, as well as on aluminum and other soft metals using thermal paste.
Materials
Wool

Resin

Marble

Granite

Bamboo products

Crystale jade

Ceramic tie

Paronite

Stone

Glass

MDF

Foam rubber

PET

Plexiglas (Acrylic)

Fabric

Leather

Rubber

Plastic

Cardboard

Plywood

Wood
Wattsan

laser machines are thoughtfully designed
Increased thickness of housing

The main feature and base of Wattsan machines is a frame structure. The frame design ensures vibration-free operation at high speeds during engraving. This makes the machines less likely to require maintenance. Machine frames are continually being improved to increase the rigidity of Wattsan machines.

Frame structure

The stiffness of the machine is ensured not only by the frame but also by the thickness of the housing, which is especially important for large models. The long service life of the machines is also due to the thickness of the machine body.

Reinforced gantry

The gantry wall thickness is 5 to 7 mm (in the corners). The gantry has a large safety margin for additional equipment with camera, autofocus or 4 laser heads. Thus, a machine with one cutting head has 4 times the safety margin.
Wattsan

- designed and engineered for business owners
PMI guide rails

Guide rails have a number of significant advantages over roller guides: robustness, wear resistance, accuracy. Wattsan machines use not only reliable, but also widely spread accessories for easy maintenance.

3-phase stepper motor

A 3-phase stepper motor is more accurate than a 2-phase stepper motor and has increased reliability and longer service life.

3M belt

Even under high tension, 3M belts do not flap and prevent uneven cutting, and the enlarged tooth is free from wearing-off and lasts several times longer than conventional belts.
Purchase procedure
Equipment selection

We assist you in making your choice of a machine matching your needs

Sending invoice

We agree on the complete set of the machine and sending the invoice with the final cost of the equipment.

Payment

In full if the machine is in stock. 50% in advance 50% at the delivery if the machine is not in stock.

We check the machine

The 3 step quality control: at the Wattsan factory, at our warehouse in the Netherlands, before the delivery.

Delivery or pick-up

Either a transport company or you pick up the machine from our warehouse.

Launching equipment

We are here to assist you whenever you need support.
Experiences

from enthusiastic blogers
This laser engraver can engrave without any problem. How fast and easy it is able to customize products!

Machine has a perfectly flat surface. It makes repetitive work easier for me!

Great job done within an hour. Thanks to the speed of the laser CO2 machine.

This model is great, and laser precision is crazy, it's sharp as a razor!
Technical characteristics
Ask questions
First of all you should decide what are you going to use the machine for, what kind of material would it be and it's size (length and thickness). This will help determine the required power of the laser tube as well as the size of the working area. You can also write or call us, we will be happy to help you choose the right machine for your tasks and budget

Laser engraving machine is a piece of computer numerical control (CNC) equipment that uses a laser beam to engrave necessary graphic information (image or inscriptions) on various surfaces.

Engraving is the effect on the material in depth. Marking on the other hand only changes the color of the material.

Using CO2 laser machine you can engrave any type of wood materials: solid wood, plywood, MDF and others.