Wattsan is a Chinese company that manufactures various types of machine tools of high quality. In its range you can find an optimal fiber metal cutter for your individual production tasks. Virmer is supplying the entire range of Wattsan products throughout Europe. Our managers are always ready to consult you and help with choosing a proper machine tool.
Fiber laser metal cutters are designed to process metals. They are widely used in the following areas:
instrumentation;
aircraft industry;
manufacturing of various parts;
souvenir production, etc.
Using this type of equipment, you can significantly speed up the manufacturing process and improve the quality of the final product. Thus, it is indispensable when machining metals.
Basic operation principles of a fiber metal cutter
Metal laser cutting: operating principles and advantages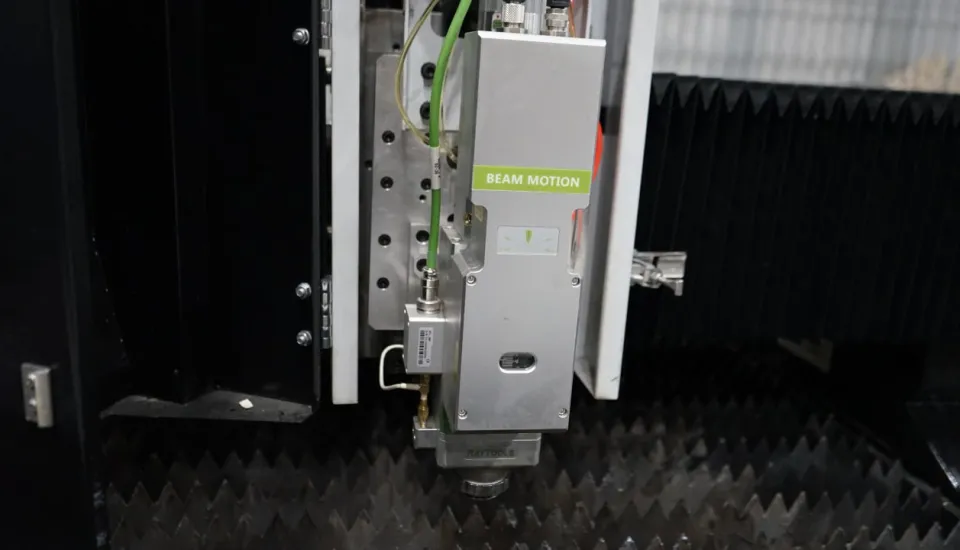 The main tool of a fiber metal cutter is a laser beam with a high concentration of energy. The basis is thin fused quartz fibers and semiconductor diodes. Power of the equipment depends on the number of these diodes.
Inside the fiber, there is:
an ytterbium coated main fiber;
secondary conducting guides carrying the function of semiconductors.
When diodes start radiating light, semiconducting material saves energy and transfers it to the core. Thus, the ytterbium coating comes into action and starts generating a concentrated beam.
The fiber component of the machine is always encased in a polymer cable. Also, for additional power production, there are reflecting mirrors at the ends of the cable.
If the operation of a laser fiber metal cutter is considered from the outside, the algorithm looks as follows:
an operator activates the equipment;
diodes come into action;
the fiber is filled with energy and generates a beam;
the operator starts the set processing program;
the beam falls on the lens of the emitter and then focuses on the material.
After that, the machine runs according to preset program settings. The material is processed in a non-contact manner. The laser beam has enough energy to instantly heat up and melt material. The high temperatures cause the material particles to vaporize, and thus the cutting process is carried out.
Fiber metal cutters advantages
High-quality processing. The equipment is capable of creating incredibly complex products with high accuracy and performance. Currently, there is no comparable method with similar quality results.
Short pay-off period. Some people believe that laser equipment is an expensive and unprofitable purchase. However, this is wrong. Fiber optic equipment reduces labor costs, allows producing extremely complex and high-quality items, and is characterized by a long service life.
Easy usage. The control of fiber metal cutters is software-based. This ensures easy operation, a wide range of functions available, and high productivity.
Wide range. The equipment is available in various sizes and configurations. There is a wide choice of small machines and large industrial machines. Therefore, you can easily choose the most optimal machine for your tasks.
What can a fiber metal cutter do?
The main advantage of fiber metal cutters is their versatility. They can be used for:
producing doors;
engraving industrial products;
complex cutting out of metal items;
production of décor elements and more.
Laser metal cutters have also found their application in the automotive, aircraft, and shipbuilding industries.
What are the criteria for choosing a metal cutter?
Laser metal cutting machine. Everything you wanted to know about laser cutting of metals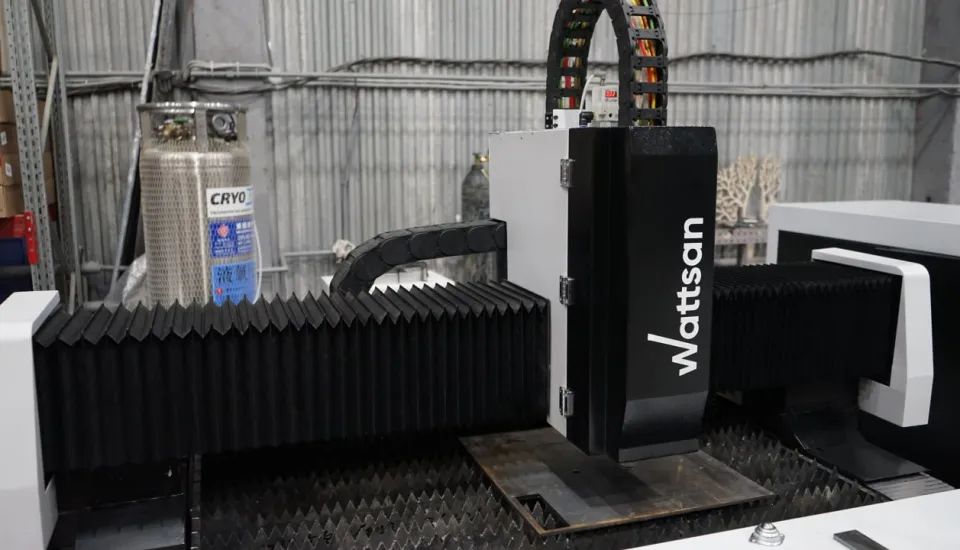 It is worth noting that the model of the fiber metal cutter to be purchased should be suitable for the tasks and specific of production. The fiber metal cutter can be used for the following types of machining:
However, despite the versatility of the equipment, you should pay attention to the production scale (mass or single-item) and to the thickness and type of the material to be processed. These things should be noted when choosing a fiber metal cutter according to the criteria listed below.
Power
Most manufactures turn out laser sources with a quite wide power range from 0.35 kW to 25 kW. This is the most important criterion you should take into account because the power of a metal cutter laser source determines the thickness of the material you will be able to process on this equipment as well as the machining speed. Let us use some examples for the sake of clarity.
A 0.5 kW laser source is able to cut a 1 mm stainless steel sheet at 12 m/min. The maximum thickness for this emitter is 3 mm (at 0.7 m/min), and it cannot cut aluminuim due to the high reflectivity of this metal.
A 1.5 kW laser source cuts a 3 mm stainless sheet at 4.5 m/min and can handle aluminium up to 3-4 mm (at 0.8 mm).
While a 6 kW laser source can easily cope with stainless steel up to 18 mm and aluminium alloy up to 14 mm. Being one of the leaders in "high-speed modes", it cuts 3 mm of stainless steel at a speed of around 15 m/min.
Thus, if your main task is to cut large sheets of metal at maximum productivity, you should consider fiber metal cutters with higher power in order to save time due to the high machining speed.
On the other hand, if you are not engaged in mass production, a laser machine with less power and price but still quite capable of performing the required task will be a more optimal choice.
When choosing a laser source, it is also recommended to pay attention to its manufacturer. All Wattsan fiber metal cutters come with Raycus, MaxPhotonics or IPG laser sources being ones of the most reliable brands.
Working area
The size of the working area required is determined by the dimensions of the material to be machined. Once you have decided on the metal you are going to work with, you will know the necessary working area of your future equipment.
Different types of metals have various dimensions. For example, stainless steel sheets come in sizes varying in width from 1000 mm to 1250 mm and in length from 1250 mm to 5000 mm while aluminium sheets come in the following sizes: 900x1800 mm, 1200x1800 mm, 1200x2400 mm, 1500x3000 mm, etc.
According to these dimensions, manufactures all over the world have worked out the most common dimensions for metal cutting machines. For the fiber metal cutters, they are 1300x2500 mm and 1500x3000 mm. However, there are also customized machines with a larger working area (1500x4000 mm, 2000x4000 mm, 2000x6000 mm, etc.).
At the same time, for processing non-standard metal workpieces, it is recommended to pre-cut them or to choose metal cutter models with tablechange option.
Best fiber metal cutters of Wattsan
At Wattsan, there is a range of fiber metal cutters with components from the best manufactures. Here is the list of the most popular machines designed for different production tasks.
Wattsan 1325 Basic
The machine is mostly chosen for following applications:
aviation;
advertising;
engineering;
household appliances manufacturing, etc.
The laser fiber metal cutter is designed for machining thin sheets of metal. For example, it can handle stainless steel, copper, and aluminium.
The machine tool can be equipped with a laser source with a power rating from 300 W to 1500 W (depending on buyer's choice).
The working area size is 1300x2500 mm allowing you to process medium-size sheets of material.
The machine is controlled via the CypCut control system. The complete set includes a chiller that is required for cooling the equipment.
Wattsan 1325 Tablechange
The machine is intended for processing metallic materials and is used in different spheres: from souvenir production to shipbuilding.
The 1300x2500 mm working area allows you to process medium-size workpieces. The laser fiber metal cutter is equipped with a tablechange option. Due to it, you can prepare workpieces on one table using the second one for processing thus providing non-stop operation.
A laser source brand can be chosen by a customer. At Wattsan, there are different manufacturers available: Raycus, Max Photonics, IPG. The power rating can be up to 5000W.
The machine is controlled via the CypCut control system and the Mitsubishi servomotors.
The Wattsan 1325 Tablechange is capable of machining sheet metals at high speed and with high precision.
The machine tool is intended for machining both pipes and standard sheets of metal. The versatility of this fiber laser cutter is due to its swiveling axis. It helps in optimizing the production process as after ordering the machine, you will not need additional equipment.
The fiber laser metal cutter is equipped with a 1500x3000 mm working area. The power rating (from 1500 W to 5000 W) and its manufacturer can be chosen by a customer.
The 10-12 mm body and aluminium gantry ensure durability and reliability of the metal cutter. Such a design eliminates vibrations that occur during operation of the machine. With these characteristics, the accuracy of machining workpieces is unquestionable.
Wattsan 1530 Rotary Tablechange
A fiber laser metal cutter is designed for those who value professional approach and high quality of results. The machine comes with a tablechange working area (1500x300 mm) and protective box for safe operation.
The power rating can reach up to 5 kW allowing you to easily process thick metals at high speed. The machine is equipped with high quality components, and its service life is up to 20 years.
The machine is used in demanding applications such as lift construction and even aerospace industry.
Conclusion
Fiber laser metal cutters are modern and high-tech equipment that is indispensable in production. The machine tools are intended for cutting, engraving, welding, piercing, and marking. They are characterized by a short pay-off period and high precision.
Wattsan laser metal cutters and other equipment for cutting wood, acrylic, fabric, etc., meet all manufacturing standarts. Therefore, you can always be sure of your products' high quality when using Wattsan machine tools.