Laser surface cleaning machine

Wattsan 3000W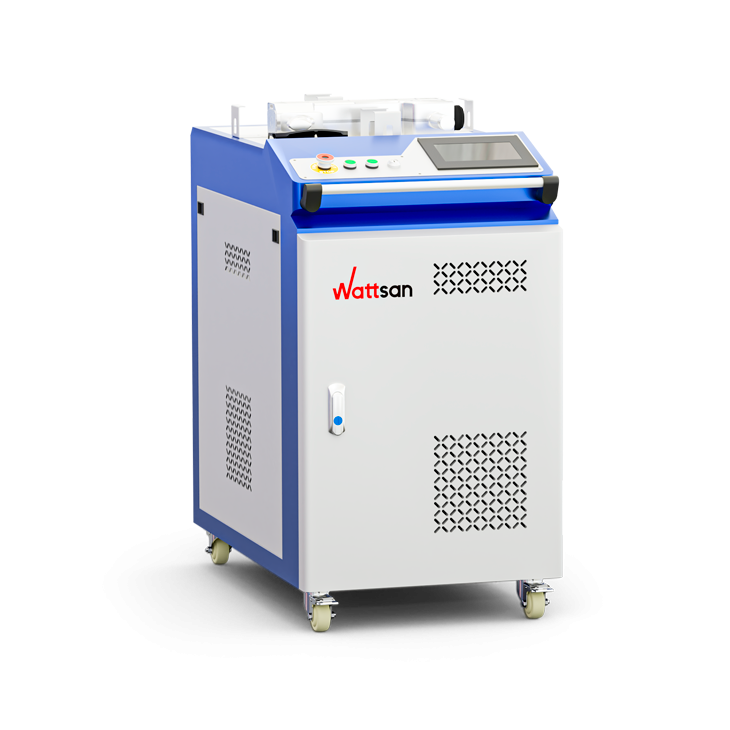 Unique selling proposition
Large cleaning area

Delicate cleaning without damage

Quick cleaning

Cleaning hard-to-reach areas

No consumables required
Brief of Laser Surface Cleaning Machine Wattsan 3000W
Wattsan 3000W hand-held laser cleaning machine allows for a mode to suit your application
The Wattsan 3000W continuous laser cleaning is a modern, high-tech, and high-speed method of cleaning surfaces. The laser cleaning equipment is ideal for all types of surfaces. It easily removes rust from metal products, layers of paint, varnish, and other coatings or deposits. The surface is degreased and the effects of oxidation and carbon deposits are removed. The speed of a continuous cleaning machine is several times faster than the one of a pulsed cleaning. A wide range of settings allows the use of laser cleaning in various fields. Cleaning can be carried out at any angle in the most inaccessible places, which allows you to extend the life of structures made of different types of metals. There are no consumables (sand and other abrasives), no need for a workshop or metal cabinet. After cleaning, only the destroyed particles (dust) of the cleaned "foreign" layer remain. A special protective suit for the employee is not required while working with the equipment. No mechanical post-treatment after cleaning is required.
Materials
Dye

Electroplating

Oil paint

Oxide coating

Oxidized rusty metal

Rubber

Rust

Soot
Wattsan

laser cleaning are thoughtfully designed
Non-contact technology

Laser cleaning applies short powerful pulses to the layer to be cleaned, which vaporise or destroy the foreign material. The surface below the foreign layer is not damaged and is ready for further technological processes, without post-treatment.

Wide range of settings

The ability to adjust the beam size and geometry allows you to use laser cleaning for a variety of applications. A small spot helps to increase power concentration and is able to reach hard-to-reach areas, while a wide treatment area (up to 100 by 20mm) significantly increases cleaning speed. Cleaning can be carried out from any angle

Water-cooling

Ensures continuous operation of the laser cleaning machine. This type of cooling allows you to work 24/7 without stopping, which significantly speeds up all production processes
The
scanner

is easy to operate and requires little maintenance.
F-Theta lenses

It ensures a flat field and maximum quality of focused radiation on the surface of the processed material

Mirror galvanometers

Mirror galvanometers located along the X and Y axes are designed to align the laser beam.

Collimator module

It converts the output laser radiation into a directed parallel beam, minimizing its divergence.
Purchase procedure
Equipment selection

We assist you in making your choice of a machine matching your needs

Sending invoice

We agree on the complete set of the machine and sending the invoice with the final cost of the equipment.

Payment

In full if the machine is in stock. 50% in advance 50% at the delivery if the machine is not in stock.

We check the machine

The 3 step quality control: at the Wattsan factory, at our warehouse in the Netherlands, before the delivery.

Delivery or pick-up

Either a transport company or you pick up the machine from our warehouse.

Launching equipment

We are here to assist you whenever you need support.
Experiences

from enthusiastic blogers
This laser engraver can engrave without any problem. How fast and easy it is able to customize products!

Machine has a perfectly flat surface. It makes repetitive work easier for me!

Great job done within an hour. Thanks to the speed of the laser CO2 machine.

This model is great, and laser precision is crazy, it's sharp as a razor!
Technical characteristics
Ask questions
Laser cleaning removes corrosion, rust, paint-and-lacquer coatings, scale, carbon deposits, electroplating coatings, adhesive coatings, and organic deposits.

Compared to mechanical and chemical methods, this method is not traumatic – it does not imply human contact with the treated surface, and is environmentally friendly – there are no toxic vapors. The risk of damaging the metal from which you remove rust or paint is also eliminated.

There are a few basic parameters that affect the choice when buying the laser cleaning machine, namely: pulsed or continuous mode of radiation, power of laser head, type of cooling, laser cleaning functionality, and requirements to the supplier. First of all, it is necessary to decide which tasks will prevail – delicate cleaning or handling with gross contaminations and deposits. This determines which type of radiation to choose – pulsed or continuous.

The service life of the laser emitter is up to 100 000 hours, which is 30 years of continuous operation 8 hours a day, 5 days a week.

Laser cleaning machine performs its main functions fast and allows you to save time on dismantling. Therefore, laser cleaning is 6-8 times faster than chemical cleaning methods.