Fiber metal cutting machine

WATTSAN RD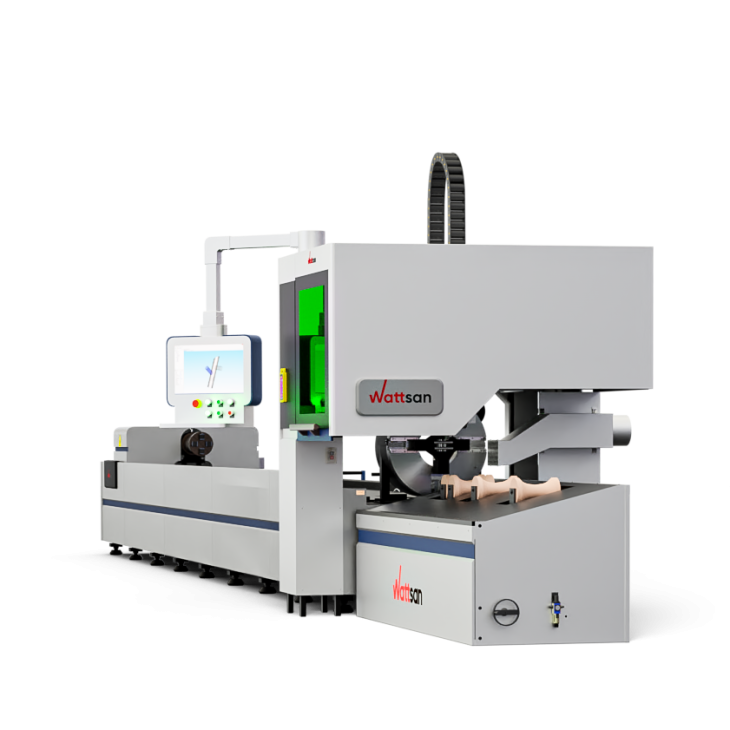 Unique selling proposition
Performanta ridicata

High precision and speed

Showroom and Demo

Training

3 years warranty on the emitter
Brief of Laser machine for cutting metal tube and profiles WATTSAN RD
Wattsan RD laser machine is a reliable machine for cutting pipes, U-channels, T-profiles and beams
The Wattsan RD pipe cutter is designed for cutting complex contours of pipes made of various metals: stainless, carbon, silicon, alloy, galvanized, structural steels, brass, aluminum, copper, titanium and other metal alloys.
The machine has the ability to cut not only standard pipes, but also more complex shapes: U-channel, T- and double-T beam.
A solid segment-welded bed serves as a machine base, resistant to vibrations and deformations. This significantly minimizes the reject rate and allows you to process heavier workpieces.
The pipe cutter has 2 servo supports and 3 pneumatic supports. They follow the pipe contour during rotation and prevent the product from swinging when cutting. The machine uses 3 types of clamps: mechanical, electric and pneumatic with a capacitive sensor and a clamping piston, the fastest, most economical and universal way to clamp the pipe.
Materials
Carbon steel

Stainless steel

Galvanised steel

Aluminium

Copper

Brass

Titanium
Adjust
the cutting process

for your production

CYPCUT software has simple user-oriented controls. The implemented functions greatly simplify and optimize the cutting process.
Your browser does not support embedded videos.

FLYCUT technology allows you to determine the shortest and most efficient cutting trajectory enabling fast cutting of round and rectangular holes in sheet metal with thicknesses up to 1 mm. In this case the laser head works without lifting and lowering which ensures high speed of work and saves gas. This mode is suitable if you are manufacturing ventilation systems.

Your browser does not support embedded videos.

Prevents corners from melting and increases the quality of manufactured products due to the laser head looping at each corner and not stopping. The obtained corners are clear and even. RINGCUT function is suitable for working with thicker materials or for cutting products with multiple corners where precision is important, e.g. gears, monograms, souvenirs, etc.

Your browser does not support embedded videos.

Professional optimization of the arrangement of parts on the sheet suitable for the production of promotional products. NESTING function allows to lay out parts on the sheet as efficiently and as close to each other as possible so that there are no gaps. This allows saving material.

Your browser does not support embedded videos.

Allows to precisely determine the position of the sheet in the work area using three reference points. You can only put the material on the work area, specify its dimensions in the program and the machine will do everything itself. You do not need to put the material perfectly on the table.

Your browser does not support embedded videos.

It is used to insert micro-joints into the processing path so that the parts do not land on its side. In this case it is easy to remove the parts after cutting. This saves working head from colliding with parts during operation. This function allows producing small parts for promotional and souvenir products without losing them in the work area.

Your browser does not support embedded videos.

This mode allows to join lines that are close to each other, that is to join them so that the laser head does not cut in the same place. This function will greatly improve performance and reduce the operation time. This function is suitable for mass production, for example, while manufacturing workpieces, promotional and souvenir products, etc.
Firm frame structure

of Wattsan machines

During the machine operation inertia of gentry motion is transferred to the frame which is subjected to significant loads. Therefore material and structure of the machine play a significant role in securing the machine against deformation and breakage.
In the process of designing the machine, all kinds of tests of static and dynamic loads were carried out to identify the maximum allowable deformations of the table and machine bed in order to maintain the correct geometry of the structure. Due to the selected design configuration, the maximum load on the table is increased by 800 kg of distributed weight. This allows you to process materials up to 15 mm thick, with a cut quality of +-0.01 mm and 24/7 and ensures the durability of the bed up to 10 years.

Wattsan E series machines are equipped with an annealed one-piece electrowelded frame with 6-8 mm thickness. It is suitable for cutting rolled metal and is used at laser source power of up to 1500 W. This version of the machine is equipped with an aluminum extrusion-type gantry for high accelerations. Traveling speed 80 m/min

Wattsan S series machines are equipped with an annealed one-piece electrowelded frame with 10-12 mm thickness. Reinforcement plate every 400 mm. It is advisable to use it when working with large volumes of production and power sources from 3000 W. The S series machine is equipped with an aluminum gantry with titanium reinforcing ribs. Idle speed – 120 m/minute.

Wattsan HARD series machines are equipped with an annealed one-piece electrowelded frame with a thikness of more than 16 mm thickness and reinforcement plates. Reinforcement plate every 400 mm. This machine version has three layers of thermal protection and is designed for work at maximum speed and large production volumes. The HARD version is equipped with an aluminum gantry with titanium reinforcing ribs. Traveling speed is up to 210 m/min. This minimizes the loss of idle time during cutting.

Wattsan frames are designed according to the latest technology, their primary objective is to avoid vibration when operating at design speeds and accelerations. The frame is installed on vibration mounts or is anchored to a 50 cm thick concrete pad.

All frames undergo multi-stage heat treatment within a day which results in less vibration during machine operation. This technology allows to release tension from metal and increase the machine's service life from 10 years and more.
High-tech equipment and verified accuracy are
guaranteed
Protective cover

This protects MITSUBISHI servomotors, SHIMPO planetary gearboxes and HIWIN guide rails from external influences.

Protective cover laser head

This protects the main components of the laser head.

Rail with wires

The bus allows you to store electric cables for the movement of the gantry.

Protective chain for fibreglass

The chain protects the fibre-optic cable and wires for the laser head.

Pressure sensor

This controls and regulates the gas pressure for the laser head.

HIWIN bearings

The laser head is moved by Hiwin bearings. It provides smooth running, high load capacity and low noise.

MITSUBISHI Servomotors

MITSUBISHI's servo motors have smaller dimensions, double life, minimal vibration, gears up to 2G, easy replacement and maintenance.

SHIMPO planetary gearboxes

SHIMPO planetary gearboxes convert the torque from the servo motor and transmit it to the skew gear which drives the gantry and helps it move smoothly.

HIWIN guides

HIWIN guides have high precision and reliability, low friction and easy installation. They are synonymous with "reliability". Rail guides shall be installed on the frame under expert supervision!

LEAN helical racks

Help the machine to withstand loads at the required speed and ensure smooth gantry movement. Helical racks shall be installed on the frame under expert supervision!
Purchase procedure
Equipment selection

We assist you in making your choice of a machine matching your needs

Sending invoice

We agree on the complete set of the machine and sending the invoice with the final cost of the equipment.

Payment

In full if the machine is in stock. 50% in advance 50% at the delivery if the machine is not in stock.

We check the machine

The 3 step quality control: at the Wattsan factory, at our warehouse in the Netherlands, before the delivery.

Delivery or pick-up

Either a transport company or you pick up the machine from our warehouse.

Launching equipment

We are here to assist you whenever you need support.
Laser head

for your tasks

Wattsan metal cutters are equipped with laser heads from popular manufacturers such as Raytools, BOCI and Precitec.
QBH connector

It is the link between the fiber optic cable and laser head. It prevents beam return thus protecting the laser source.

Collimator module

Is is used for narrowing and adjusting the laser beam. It makes the laser beam suitable for further transmission to the focusing module. It should not be replaced more or less than once a year.

Focusing module with position controller

Dynamically adjusts focal distance during operation to ensure deep and quality cuts.

Protective glasses

Protective glasses protect expensive focusing optics against dust, dirt and sparks. The upper glass is rarely replaced. The lower protective glass is the main consumable.

Induction sensor

It maintenances the correct nozzle height above the material which ensures a stale cut regardless of material curvature.

Ceramic nozzle adapter

It protects the cutting head from heat generated during laser cutting.

Nozzle

Ensures that the gas jet and laser beam are aligned for a better cut.
Experiences

from enthusiastic blogers
This laser engraver can engrave without any problem. How fast and easy it is able to customize products!

Machine has a perfectly flat surface. It makes repetitive work easier for me!

Great job done within an hour. Thanks to the speed of the laser CO2 machine.

This model is great, and laser precision is crazy, it's sharp as a razor!
Technical characteristics
Ask questions
A fiber-optic laser is best suited for cutting metal, but a specially equipped CO2 laser with a high-power laser tube may also be suitable for this purpose. However, it should be borne in mind that the thickness of the metal for cutting with a CO2 laser is limited to 1.5 mm, while a fiber-optic laser is capable of cutting up to 25 mm.

The cost of an hour of laser cutting depends not only on the power of the laser machine and the speed of its operation, but also on a number of other factors, such as: the professional skills of the machine operator, the cost of renting a production room, the cost and consumption of electricity, the cost of the material itself, the amount of scrap and downtime of the machine, and much more. In order to unambiguously answer the question about the cost of an hour of laser cutting, it is necessary to take into account all these parameters.

A focused laser beam is applied to the metal surface, as a result of which it melts, the molten material is blown out of the cutting zone with the help of an auxiliary gas.

The power of the laser emitter depends on the thickness of the material being processed and the desired processing speed. For example, a 1 kW emitter will cut 1 mm thick stainless steel at a speed of 13 m/min, and a 3 kW emitter will cut the same material at a speed of about 35 m/min. Here everything depends on the budget and the expediency of using the maximum possible capacity. Although it can be said that in today's competitive realities it does not make sense to buy a laser machine with a power of less than 1 kW.