In this article we will find out what types of wood and what thickness can be cut with a CO2 laser machine, what are advantages of this cutting method compared to others, and what nuances should be considered before purchasing a laser machine.
What is a CNC CO2 laser and how does it work?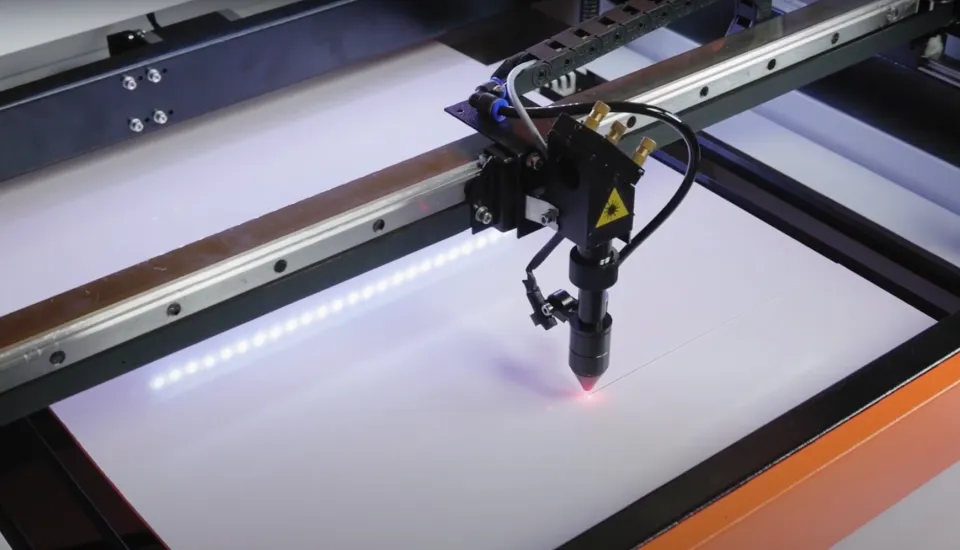 What kind of wood can be cut with a laser?
It is possible to cut both soft and hard wood, from spruce and birch to oak, cherry, and rosewood. Also, you can use a CO2 laser machine to cut other wood-based materials such as veneer, plywood, chipboard, and MDF. Read how to select a laser cutting machine.
What thickness can a wood laser cutter handle?
A properly adjusted laser cutting machine with a 100 W laser tube cuts 10 mm thick wood although it can handle thicknesses up to 20 mm. However, please note that in this case, the operating speed will be 2 mm/s, and there will be soot at the edges.
Solid wood thicker than 5 mm is rarely cut out with a laser – there is noticeable soot on the material that requires additional post-treatment. If your main task is to cut out thick wooden materials without fouling, we recommend to use CNC router machines Wattsan.
What is produced on laser cutting machines for wood?
Laser Cutting Machine for Home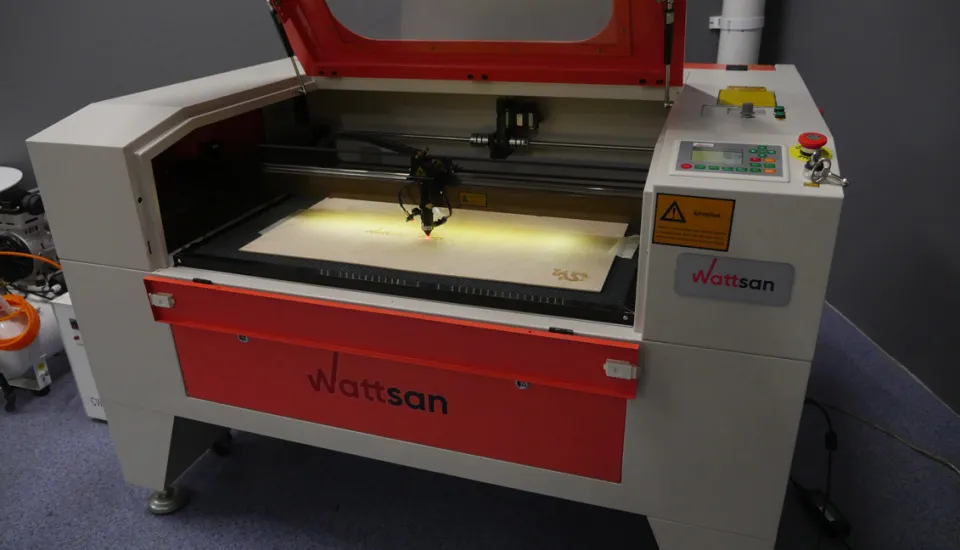 A laser wood cutting machines can be used for manufacturing:
parquet floor;
veneer products;
prefabricated models;
educational toys;
furniture;
decorative panels;
design solutions for interior and exterior;
advertising items;
packaging;
souvenirs;
prototyping items and much more.
Moreover, laser cutting machines are combined with other equipment to produce complex products from different parts.
Advantages of cutting wood with a laser machine
Cleanness and low noise level. Due to the non-contact processing, there are no chips and dust. Laser production is quite clean, and for proper operation, it is enough to use an air exhausted system that comes with any Wattsan laser machine;
High precision and cutting fine contours and detailed items. First, it saves material to some extent. The exposure area of the laser beam is 0.3-0.5 mm therefore the beam does not "eat up" extra material as, for example, a milling machine does (you can read about it in the article about CNC routers). Secondly, you can obtain the result that is unattainable or difficult to achieve with other types of machining;
Speed of operation. The Wattsan wood laser cutting machines achieves operating speeds of up to 500 mm/s and idle or engraving speeds of up to 700 mm/s;
No time wasted on attaching the workpiece because the cutting is non-contact;
For the same reason, there is no chipping or notches at the edges of the product which can occur with traditional wood-cutting methods;
In addition to laser cutting, you can also perform engraving and ablation of wood on a wood laser machine. This significantly expands the possibilities for your production and allows you to get creative with the process;
The CNC brings down to a minimum the possibility of errors during operation because all manipulations are performed by the programmed controller;
For the same reason, the laser ensures high quality, precision, and repeatability of products;
Processing of a number of other materials: different types of plastics, rubber, ceramic, fabric, fur, and leather, foam, cardboard and paper, stone, composites. When combining materials and methods of processing, your possibilities are only limited by your imagination.
How to choose a wood laser cutting machine?
How to select a laser cutting machine? A complete guide.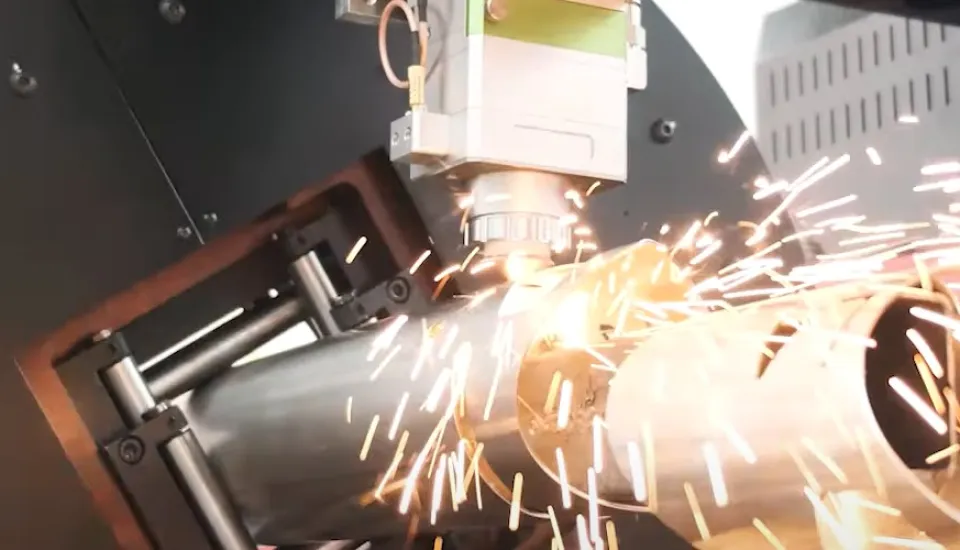 Parameters to consider:
Emitter type. You need a CO2 machine, not a fiber optic or a diode UV laser. Different emitters produce different wavelengths, and for non-metals, including wood, a CO2 laser in the right one.
Laser tube power. The thicker material you plan to cut, the more power is required. To cut 1mm of material, you need 10 watts of power. For example, to cut 6 mm of wood, a 60 W laser tube will be quite enough. However, note that with this power, the operating speed will be quite low.

Wattsan engineers recommend using 80% or less power of your laser tube in order to extend its service life. Contact us, and we will be glad to help you with choosing the optimal power for your tasks.

Working area format. The size of the working area determines the size of the final product and the size of the material sheet you can cut on the machine. Pay attention to laser machines with a through-table, for example, the Wattsan 1610. Thanks to the through-table, you can use materials of any length as long as they fit through the width of the worktable; in the case of the Wattsan 1610, it is 1600 mm. Thus, you can work with standard sheets of plywood without pre-cutting the material.
Depth of table lowering. wood laser cutting machines can be equipped with either a static or lifting table. The table lifting feature allows you to process thicker materials as well as to use a rotary device for engraving on cylindrical objects.
Air compressor. The air flow that is fed to the cutting area has three functions: to catalyze combustion for better cutting-through, to prevent flaming up, and to blow the fouling and combustion products out of the cutting zone. It is the powerful air flow that not only produces clean edges but also ensures steady cutting through the material
Company, maintenance. Choose a reliable supplier. Pay attention to warranty and maintenance services as you might need help with commissioning or repairing of your equipment. It is better to be sure that your supplier can help you any time. Reliable companies have technical support and provide demonstrations of their equipment before purchasing.
For more details on choosing a wood laser cutting machine with a CO2 laser emitter, read our article.
Tips for cutting wood on a laser machine
Buy high quality material.You need wood that is homogenous in colour and structure, if possible without knots and patches, in order to achieve high and steady predictable quality of machining.

Attempts to save a lot on material will only lead to more costs.

In order to get rid of fouling and achieve a nice light shade at the edges, an air compressor is required. Wattsan engineers recommend that 1-2 atm be supplied to the cutting area during operation.
Power. Use the emitter at a maximum of 75% power. This will not greatly affect the result, but will extend its service life.

For effective laser cutting of wood, we recommend using a laser tube with a power of 100 W or more.

The level of equipment working knowledge affects both the result and the operation speed. A qualified operator can work on 5-6 machines simultaneously without losing quality. If you need training, please contact our managers: info@virmer.com; whatsapp: +31852731786.
Post-treatment is necessary, but not always. As a rule, sanding and painting of wood are required. However, when working on a Wattsan laser cutting machines, it is not necessary to additionally treat edges of the product in order to get rid of fouling. With the correct settings, it will have a light shade.
If you plan to get rid of soot by sanding, consider the tolerances at the layout stage and allow extra material for sanding. If the fouling is not severe, an alternative to sanding is a stiff brush.
If the machine is of a low quality or poorly aligned, the quality will be bad in any case. Also remember to maintain and clean the optics regularly.
If you need advice, please contact Wattsan managers; we will be glad to help you.
We hope you have found the answers to your questions in this article. If not – please ask us, and we will answer them.